See my software development work – virtual instruments I've created or developed, and workflow solutions designed for composers and instrument creators.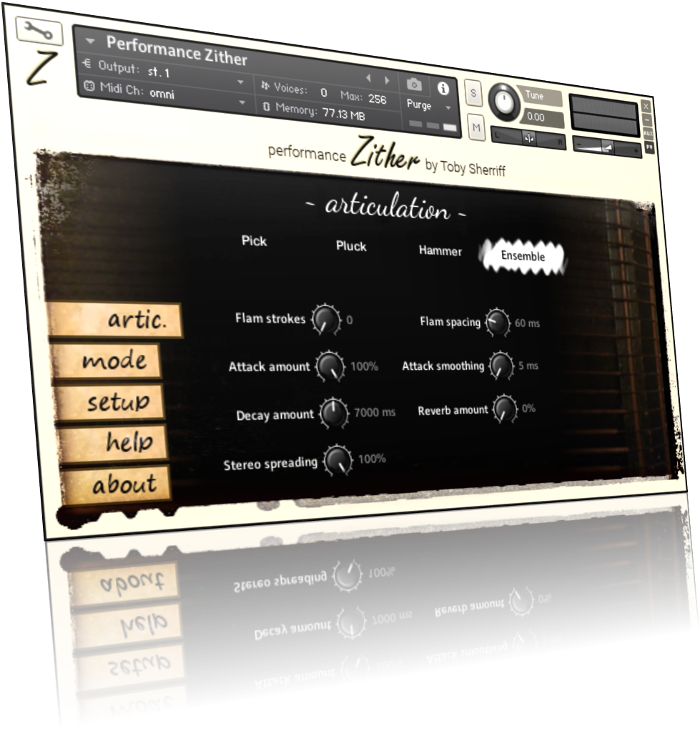 Performance Zither was created to facilitate playability while reducing the need to tame parameters. The instrument provides a variety of articulations and sound-shaping options and even includes some tools that can help spark creative ideas.
Requires the full version of Kontakt 5.5 or higher.
Features
Up to 4x round robin
Up to 3 velocity layers
Over 500 individual samples
4 articulations 
Configurable flams
Configurable tremolos
Configurable keyswitches
Finger-damp release triggers
3 different playing modes, including performable arpeggios and rain effects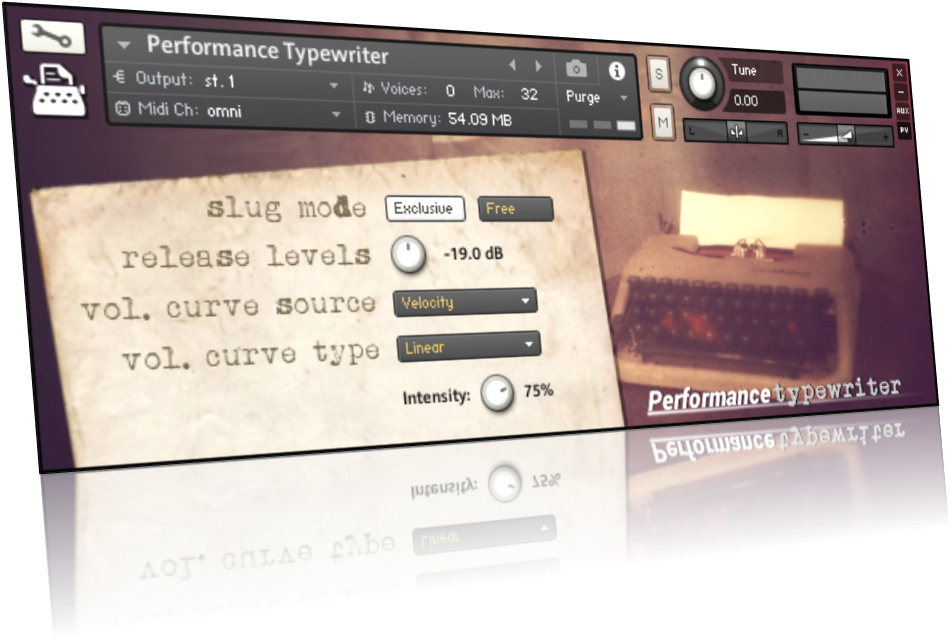 From the depths of the attic comes this clacky relic and perhaps the most meticulously sampled typewriter around. Performance Typewriter includes up to four velocity layers, 10x round-robin, release triggers, and all sorts of carriage returns, paper rips, and other knobs and switches. Yes, it even includes the bell.
Requires the full version of Kontakt 5.5 or higher.
Features
Up to 10x round robin and up to 4 velocity layers
Over 350 individual samples, including releases
Home row keys, spacebar, shift, backspace, and bell sounds
Carriage returns, paper rips, feed knob, and various switches
Configurable volume curve options
Realistic velocity and polyphony modes that mimic the behaviour of a real typewriter
Features
Parses and displays Kontakt image metadata
Provides an editable table listing all images and their properties
Ensures only Kontakt-readable values are saved
Flags Invalid values from externally edited files
Creates and removes all accompanying text files in batch
Shows image previews and extended properties
Calculates frame dimensions for images with multiple frames (animations)
Remembers previous image locations
Version History

1.0.1.66 – Fixed an issue where entering values into the "Horizontal Resizable" field could corrupt the text file. Fixed a typo in the "About" dialog.
1.0.0.62 – Initial release
CC to Keyswitch (multiscript)
Converts incoming CC messages to note-on messages. Use this script to add chasing functionality for instruments that only support keyswitches, or if you want to avoid keyswitching (via note-ons) altogether.
Auto-Divisi (multiscript)
Intelligently divides incoming MIDI data to multiple channels. Up to 16 different instruments can be played simultaneously and independently.
New! Version 1.4 introduces a monophonic/unison mode that can be enforced by a CC value.